Gobbles are a range of handpuppets designed, sewn, embroidered and nurtured by Julia and Simon Indelicate. They behave like this:
And YOU can own one!
All gobbles come hand numbered with birth certificates.
Fluffy Gobbles available in: BLONDE, BROWN, PINK, BLUE, YELLOW or GREEN
Also available in: DENIM, Green FLEECE or ANY OTHER MATERIAL WE CAN GET!
Want something special? email us to ask about customisation options.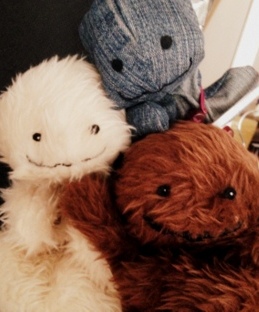 ORDER FLUFFY GOBBLES £8 + £2P&P
ORDER FABRIC GOBBLES £10 + £2P&P
ASK US ABOUT BESPOKE GOBBLES
Email Your Query To:
juliaindelicate@gmail.com
XX, J&S